Cultivate your plants your way with our versatile, durable, reusable C-BITE Stake clips. C-BITE clips work with most (trellising) garden stakes and canes and plant support products. They hold stakes in up to three directions, allowing you to make rigid cages of any size and shape, as well as pre-tie moveable support lines and cross members, to create 140+ connecting combinations.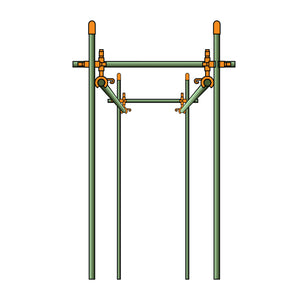 Build sturdy, reusable cages and enclosures
Secure netting or cords to hooks or holes
Create custom supports
Lengthen stakes
C-BITEs are manufactured in America from UV- resistant non-virgin plastic. With the same tensile strength as copper, you can rely on this mighty little clip to hold your stakes together and keep your plants supported, harvest after harvest.
Attaching C-BITEs to stake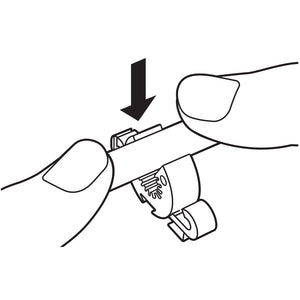 Attaching C-BITEs to stake
Removing C-BITEs from stake
C-BITEs come in two sizes to fit most commonly available garden stakes and canes.
Lime Green C-BITEs best fit the skinny 8 mm and 9 mm plastic-coated and bamboo stakes.
Tangerine Orange and Incognito Green C-BITEs best fit the 10 mm and 11 mm stakes.
Securing netting with hooks
Securing netting with grip
Securing cords with holes
Securing twist ties with holes
Remember, if you fill the dovetail gap with another C-BITE before clipping it to a garden stake, it can't easily open or release the stake.
Building a cage
Cage corner step 1
Cage corner step 2
Cage corner step 3
Use the holes and hooks as adjustable plant tie anchors. The hooks are slightly different sizes and are also very grabby. Use them on bamboo, parachute or nylon cord, hog wire and fencing.
You can use C-BITE with string and twine, rope, twist-ties, gardening wire, vinyl plant ties, twist clips, plant Yo-Yos, trellis netting, bamboo canes and skewers, pot edges, zip-ties, rubber tubing, coated stakes, and permanent markers. C-BITEs are also perfect for organizing and holding cables, string lights, extension cords, tools, pens, smartphones, keys, and much more!'
Safety first—and always.
Gardening is great for families. Just make sure you supervise C-BITE interaction of children ages 3 to 8 years. And don't forget to wear hand and eye protection when working with stakes. (Seriously.) Please see our full disclaimer.