We've all been there, facing the impossible question: to cut or not to cut? With Peonies, it can be even harder to decide. Should you leave the big, puffy blooms in the garden to impress anyone passing by (neighbors, butterflies, yourself)? Or, do you cut them and enjoy them just for yourself displayed proudly in a vase on your dining room table? If you decide to give them the axe and enjoy them indoors, we've got a few tips to help keep them lasting longer so you feel good about your decision - and they last as long as possible!  ...
---
• flowers • garden • mom • roses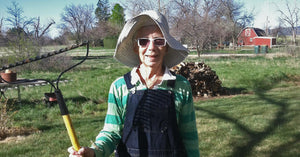 "Where flowers bloom, so does love." - Lady Bird Johnson   This Mother's Day is bittersweet.   The sweet: we started a business that grew from our hearts.  The bitter: our mom isn't here to witness it.   We lost our mom, Naomi, a little more than two years ago to cancer. Before the illness invaded her body like the alien she dubbed it, she was a good skier, a decent mountain biker, a not-so-good golfer, and an exceptional gardener.   It's the gardening we think of most these days.  Over the years, Mom planted more than 100 rose bushes, irises, dahlias,...