• garden • plantsupport • tip • tomato
From time to time, we all need a little support, and that certainly rings true for you tomato plants!
---
We've all been there, facing the impossible question: to cut or not to cut? With Peonies, it can be even harder to decide. Should you leave the big, puffy blooms in the garden to impress anyone passing by (neighbors, butterflies, yourself)? Or, do you cut them and enjoy them just for yourself displayed proudly in a vase on your dining room table? If you decide to give them the axe and enjoy them indoors, we've got a few tips to help keep them lasting longer so you feel good about your decision - and they last as long as possible!  ...
---
• cage • garden • plantsupport • trellis • vegetables
April showers bring, well, you know. So it's no surprise that May is a busy month for gardeners. In addition to the poem's requisite flowers, May also brings sprouting seeds, shooting shoots and ripening of early vegetables. And while the rising mercury makes it tempting to start planting, May has a tendency to leave us cold—and if we're not cautious, left with damaged plants. So be sure to protect your seedlings from late freezes, heavy rains and strong winds. Of course, warmer days are ahead. Now's the time to start thinking about good canopy management and plant support strategy. Why?...
---
• flowers • garden • mom • roses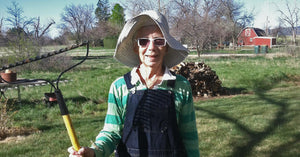 "Where flowers bloom, so does love." - Lady Bird Johnson   This Mother's Day is bittersweet.   The sweet: we started a business that grew from our hearts.  The bitter: our mom isn't here to witness it.   We lost our mom, Naomi, a little more than two years ago to cancer. Before the illness invaded her body like the alien she dubbed it, she was a good skier, a decent mountain biker, a not-so-good golfer, and an exceptional gardener.   It's the gardening we think of most these days.  Over the years, Mom planted more than 100 rose bushes, irises, dahlias,...