We chatted with co-owner Morgan Rider about her history in environmental conservation, her Japanese gardens, her cats, plus how her mom shaped her to be a fearless leader even when there weren't many other women in her field. We hope you are as inspired as we are by our fearless co-leader! 
---
Margo Candelario is the founder and force behind Young Female Farmers, a multi-generational farm focused on providing fresh produce to their community and educating on the benefits of self-sustainability and the importance of healing with plants.
---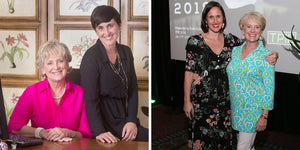 We chatted with Katie Dubow, owner of Garden Media Group, about her amazing mom, the new virtual conference the Great Grow Along that she helped found, and her own garden in Pennsylvania. 
We hope you're as inspired by this 
amazing
 woman
 as we are! 
---
We've included some of Territorial Seed's best seed starting tips and links to their growing guides below. If you're new to gardening, this is a great place to start! 
---
Peter Carbonaro — along with his wife and three children — runs

 
C5 Organic Farms
, an organic vegetable farm with goats, chickens, and more in Tampa, Florida.

 
We chatted with Peter about his gardening journey, his animals, and how his children get involved in the farm.